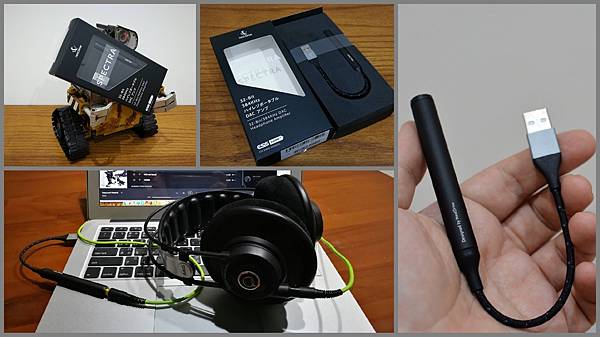 Light weight but unbelivable performance
Powerful tool to enhance sound quality of your laptop, macbook
nextDrive SPECTRA USB DAC
adopt ES 9018Q2C chipset, up to 32bit / 384K, DSD decoding
Before test SPECTRA, I never thought to listen headphone with my laptop or macbook. Background noise and sound quality was my concern.
In the Taipei hi-fi show last year, they showed this new product prototype. The performance amzed many audiophiles. Too many people want to test, so I didn't go the chance to test it in their show room. After half year, I contact nextDrive team and luckily got the ready product for testing.
nextDrive is a new a creative company from Taiwan. Their products seems very closely related with IOT products, from creating ideas and manufacturing.
[Unboxing]
The package is very safe-designed. For audio channels, black is the not-thing-wrong choice. Looks compact and neat Thru the transparent front box, the SPECTRA is visble. The box printing in English and Japanese.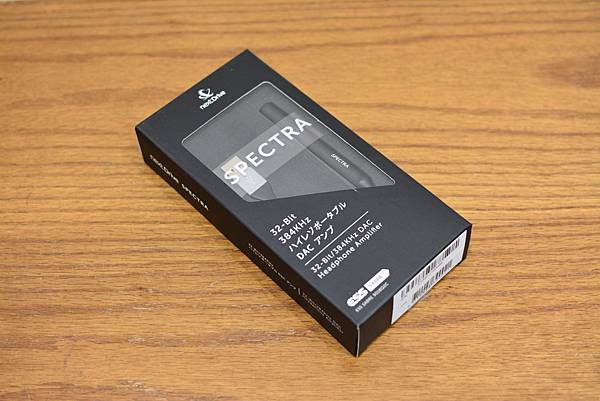 The specialities are printed in the front surface.
USB DAC, adopting ESS9018Q2C, up to 32bit/384KHz.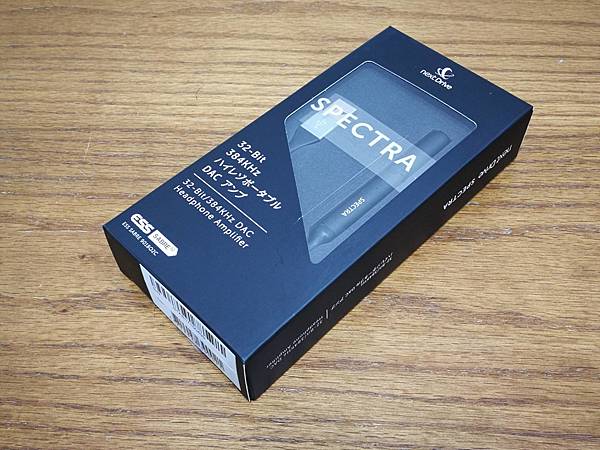 Two models available (shown on the back): USB TYPE A (for Windows, Mac), USB Micro B (for android device with OTG). Unfortunately, lightning version is not available now. My SPECTRA is USB A version.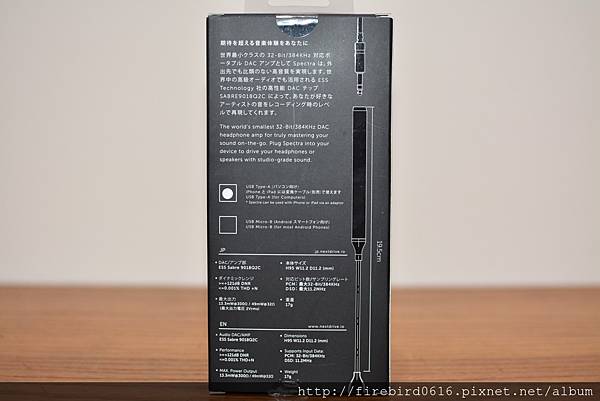 SPECIFCATION:
SNR:>=121db
THD:<=0.01%
Max output:13.3mW@300 ohm / 49mW @32 ohm
USB DAC:PCM max 32bit 384kHz / DSD max. 11.2MHz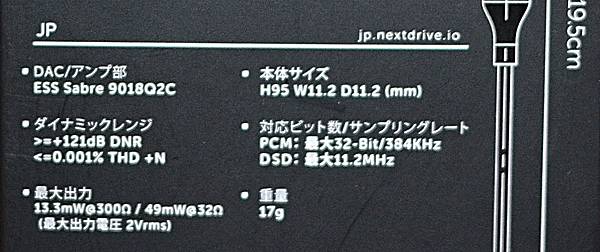 Personally, I appreciate the black and white simple package. From the transparenet window you can know what's inside. And from the printing on box, directly understand what can you have with SPECTRA.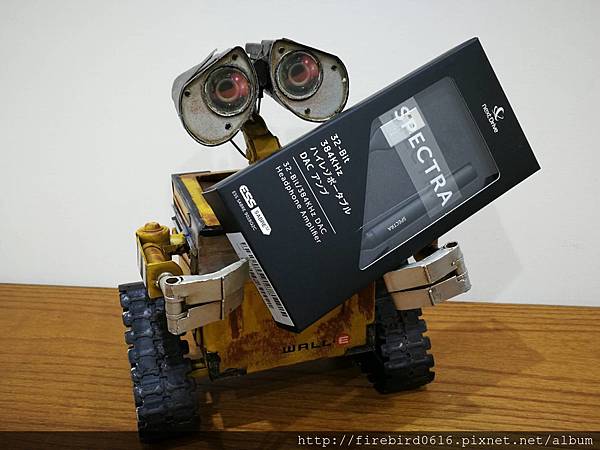 Taking off the outside case, then you may see the whole SPECTRA USB DAC.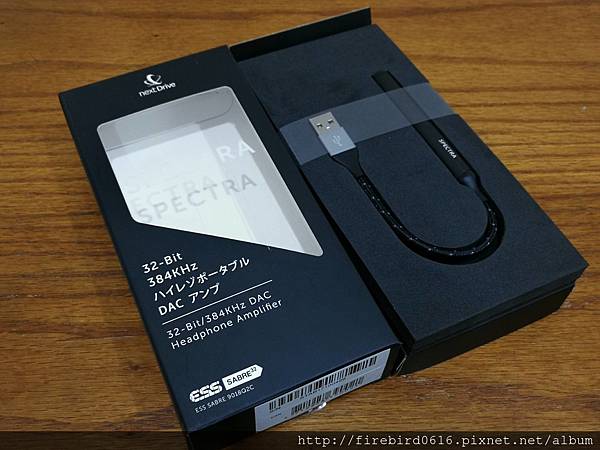 Nice to meet you. :)
Both end are in metal material, with a nice= looking and strong structure. And the USB cable is wrapped with woven nylon material. The first view is a simple looking but good design product with perfect color arrangement.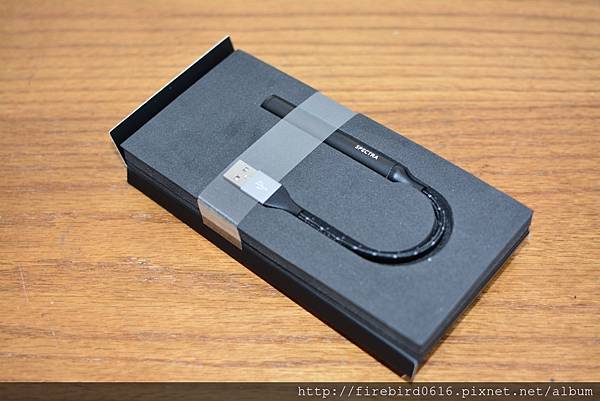 One end is USB A plug to plug into PC, mac. And the other end is a round stick with 3.5 mm audio jack.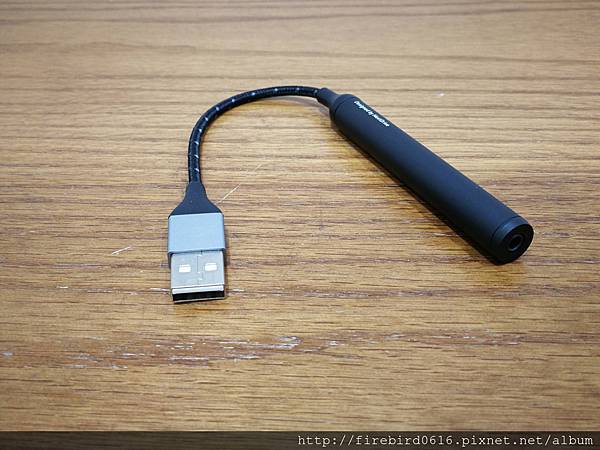 Very slim size. The cable between is about 19.5 cm. Easy to pull in to carrying bag or backpack.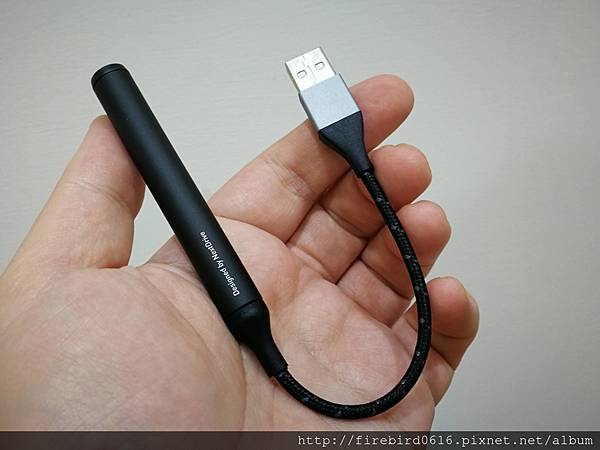 In order to test the output performance, AKG Q701 maybe a good tool.
Currently my DAP (FiiO X3, X5 III) and Macbook Air cannot fully drive Q701 well, I think. The soud stage was narrow and the curve of sound didn't move very smoothly.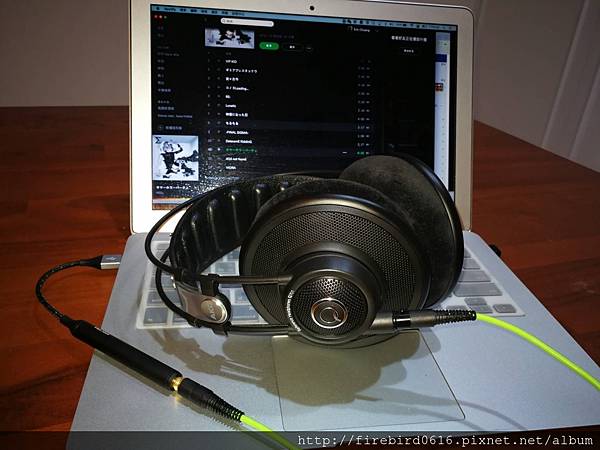 This really suprise me! What a magic!
Comparing to direct output from Macbook air, the sound quality and sound stage is totally upgrade!!!!
The curve became so solid and robust, moving so smoothly. I never experience the transparent and clarity of sound from my Q701. The blurred situation was totally disappered.
The sound stage became much wider and easy to recognize the position of each instrucment while listening symphony. Especially for Cello playing, the vibration from the cavity to my heart, that feeling is so touching.
Evan use the arangement to heart electronic music, such as "#404 not found" by REOL, all kind of sounds jump from different direction make the sound colorful, but not in a mass.
I downloaded some DSD music,and installed Audirvana Plus in my macbook air, in torder to test DSD.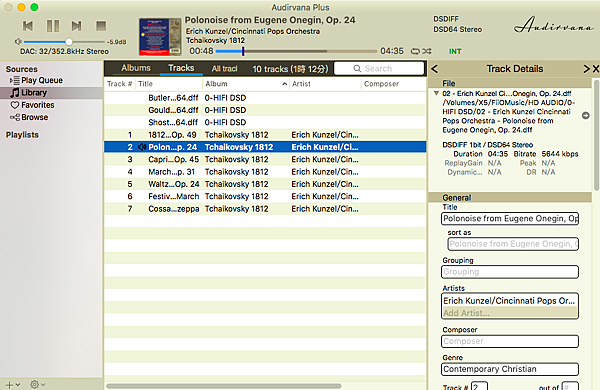 SPECTRA + Q701 plus the very origianl DSD music make the sound totally pure, the reproduction of original sound and the detail is so clear.
To sum up, SPECTRA is silm USB dac. But it can bring unbelievable stable, clear, balanced sound. The sound stange is wide and well-oragnized.
But the bass is not strong, the sinking is slighly and not very deep. But the slightly harmonics make to bass make me joyful.