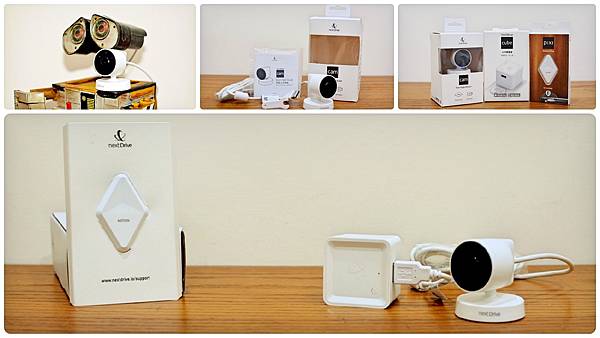 nextDrive Smarthome Kit (Cube + Cam + Pixi)
Most wifi cams are designed as all-in-one, built-in wifi moudle, camera and sensor. This common design is easy to install, but may bring some inconvience. Ex. When the system sense an abnormal signal (maybe someone break in), when you read the message, the thief already not in the visible area.
NextDrive smarthome kit is a very different idea system. It consists of couples of different products. Each product has it's own function, and may work standalone. Maybe later, you can add in more function by geting more nextDrive accessories. Thus, I call nextDrive as "EXTENABLE SMARTHOME SYSTEM".
This review will include following nextDrive products:
Cam -- USB cam
Cube -- Smart home gateway
Pixi -- Motion detector

Cube is the gateway to connect to your wifi AP, so you can remotely connect to the devices plugged into it (in this review, Cam). Pixi is an function-added sensor, it work as a motion detector. Whenever it detects a vibration, it sends a signal to cub and start recording.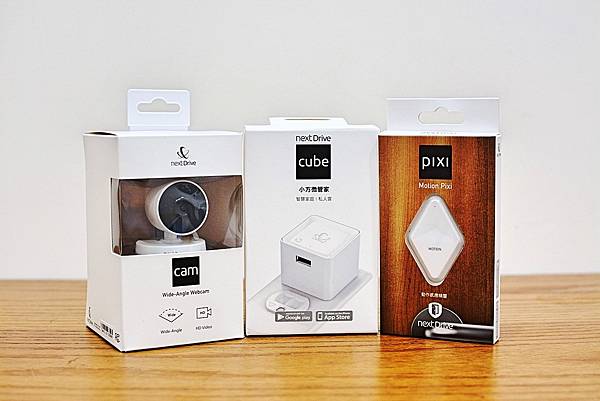 Unboxing
Part I、CUBE
Black and white package, simple but elegant.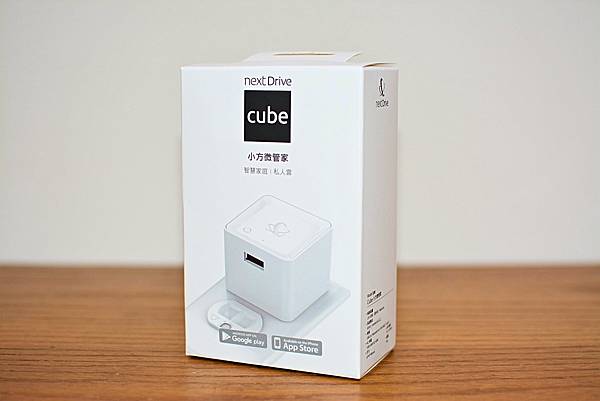 Just same as its name -- Cube, it's a cube shape plug. It's mission changes according to the device plugged, could be private cloud, wifi-cam, humid-detector, security, etc. But it's main function, informtion center, never changes..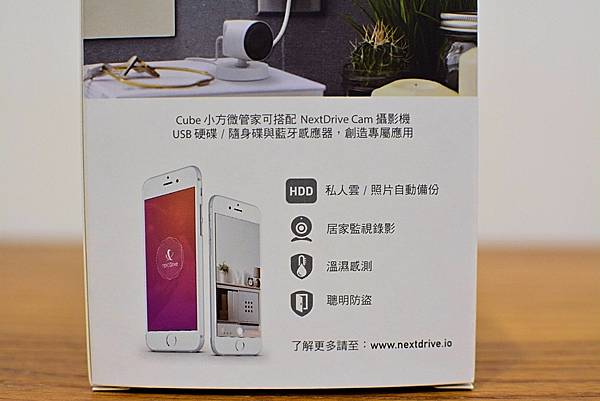 Inside the box is strong hard box, also in simple black and white.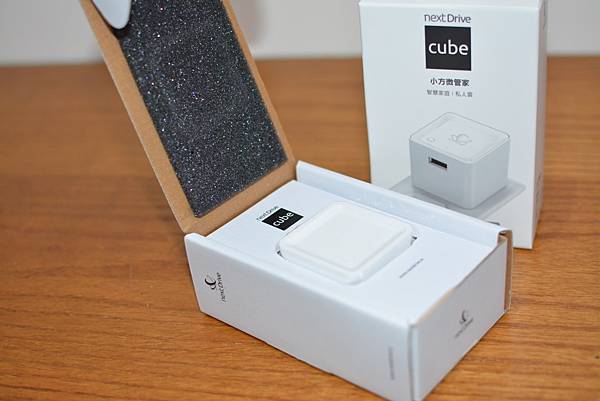 Accessories.... just user's manual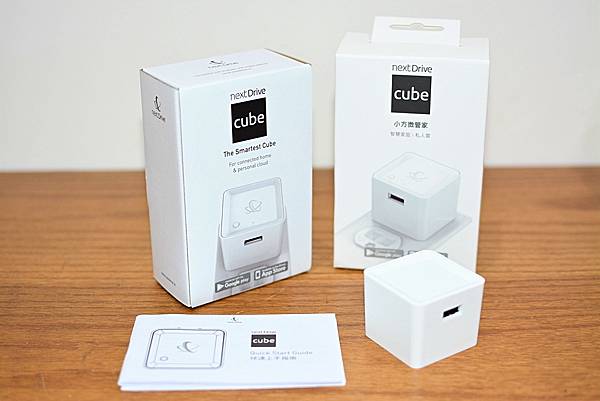 CUBE is a power plug, with USB port. You may think it's just a USB charger at first glance.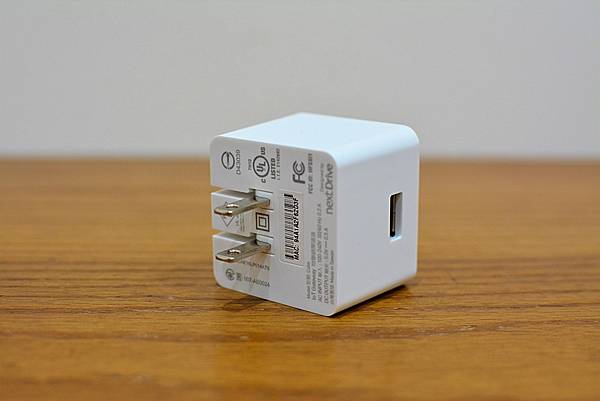 Please turn to the top, you will notice something different from a USB charger. There is a button (fro reseting and settting) and LED singal.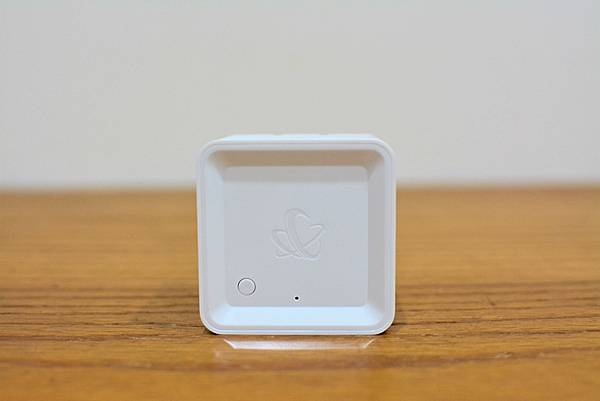 Part II、CAM -- Wide angle USB Cam
The package also in black and white. From the transparent window, CAM is visable.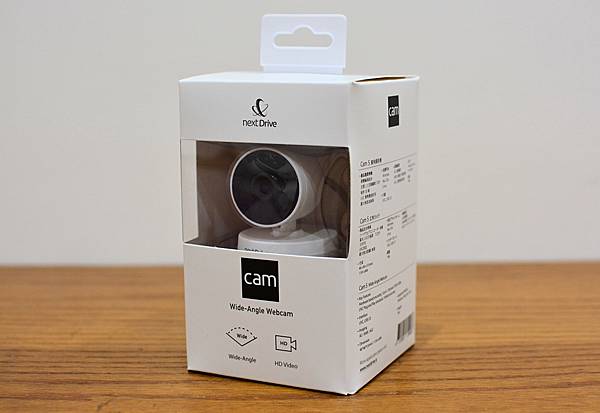 Up to 720P 30FPS, 1.3m pixels. Not very high resolution, but acceptable.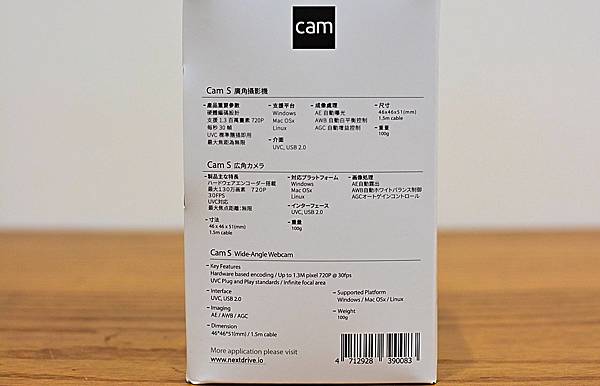 Inside the box, the only one accessory is a plastic wrench.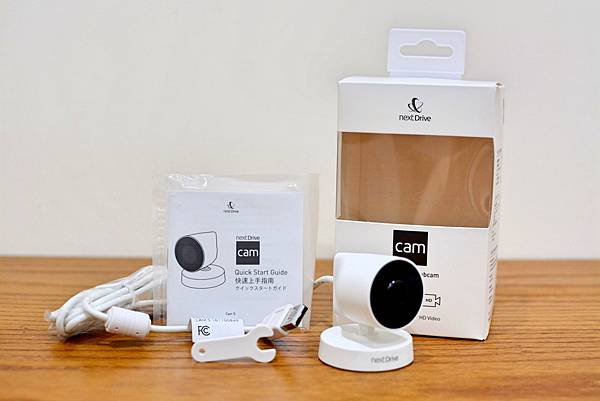 Using the small wrench to adjust the direction of the CAM. It's neccessory especially when you fix it on the wall or somewhere.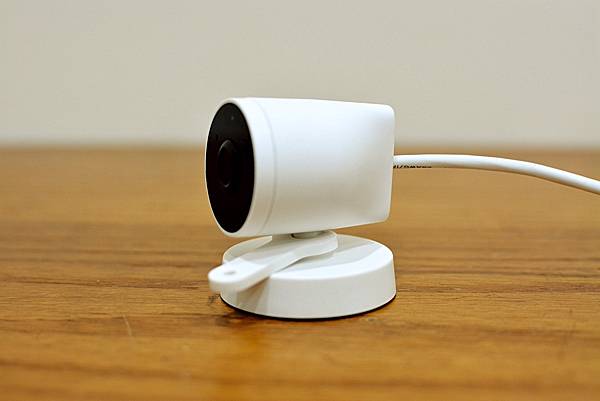 Part III. PIXI -- Vibration sensor (bluetooth)
This is a tiny piece object in diamond shape.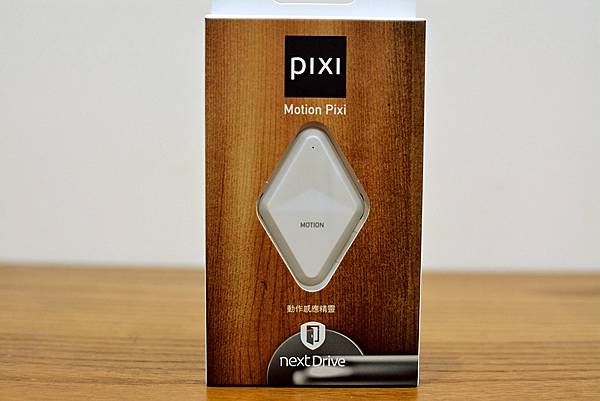 For vibration detecting, and nothing else. When it detects a vibration, it will send a siganl to Cube. Then through Cube to send warning message (to the connected smartphone) and trig recording.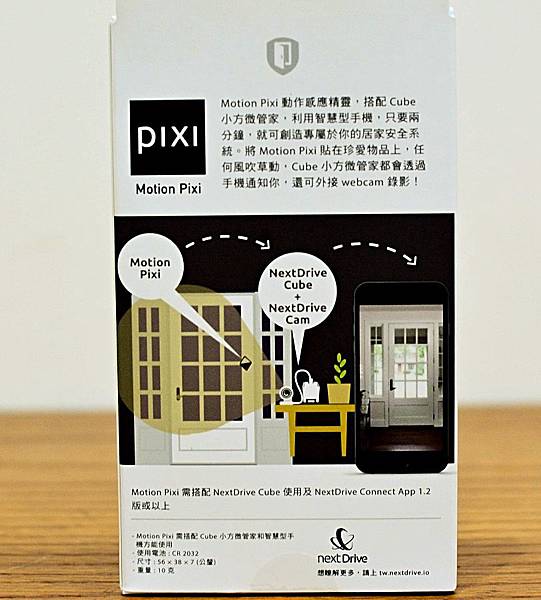 Stickers in the box can help to attach Pixi to any object you intend to detect vibration. You may attach it on the door, closet, safe, etc.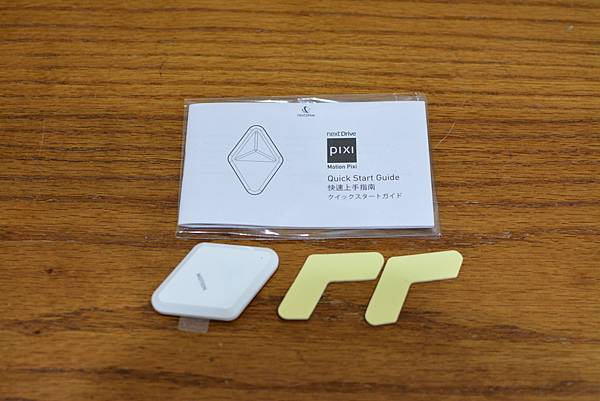 ---
---
App Installtion
Scan the QR code in the manual or searching "nextdrive" in APP market or google play, you will find the APP.
Attach the CAM and CUBE, and plug into plug. Then Turn on Bluetooth of your smartphone before opening the APP.
1. Find blue tooth device
2. A CUBE-XXXXX will be found, and click it.
3. Setting passward.
4. Setting wifi environment.
5. Find the WIFI AP, and connfirm the password.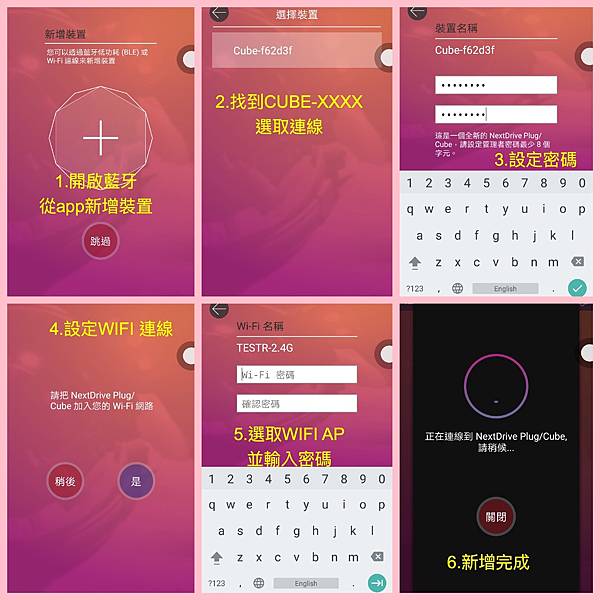 After above setting, you can view the realtime video from the APP.
Enter the system seting to setup the name and passward, so that family members can connect to the same CUBE with their own smartphone.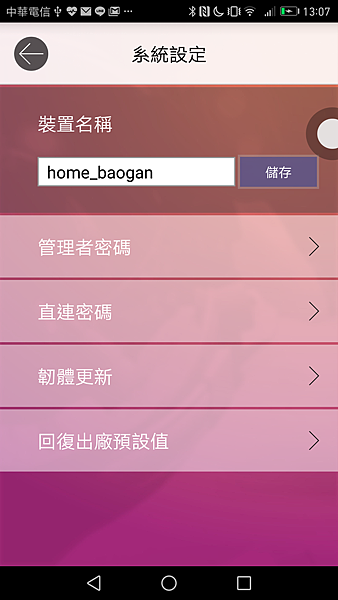 The latency is around 0.5-1 second, and video is very clear without noise. Very acceptable to me.
Press the camera button will capture the image and save it inot photo album of your smartphone.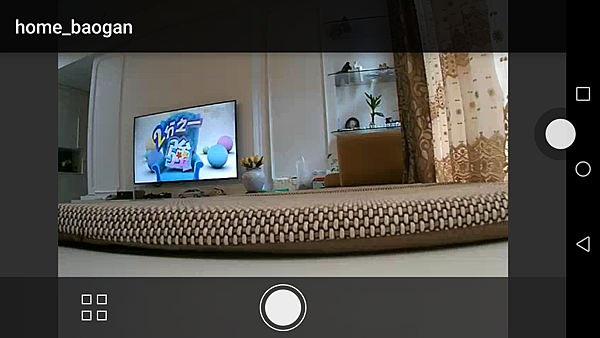 How to replay the histrocial video? There's no continous recording and replay function yet.
But if you have PIXI, the system will record EVENT videos. 4G memory is built-in in the CUBE for recording events. Each event will be recorded record as a 30 seconds video file. Start recording from 5-10 seconds before detecting of vibrration. It can store about 200 events, if the memory is full, it will earse the oldest files.
How to setting PIXI?
Go to ADD DEVICE page and click PIXI. Find the PIXI (remove the plastic sheet in battery compartment first).
You can name this PIXI for indentfy the location. Three scale of senstivy is availble, Medium is recommended.
The PIXI is connecting to CUBE with bluetooth, so make sure to put PIXI in the workable distance (within 10 meters).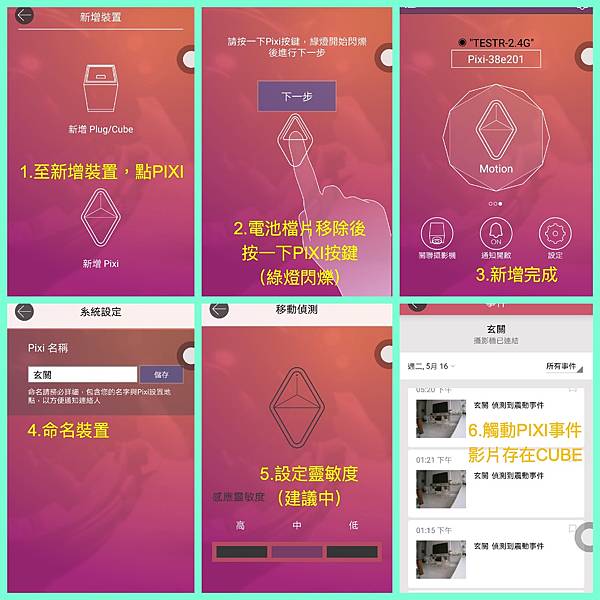 ---
---
App Operation
After above setting is done. Let's review the UI of the APP.
Serveral pages are included, from right to left:
> SMARTPHONE: Downloaded files
> CAM: Realtime video streaming
> PIXI: recorded file of events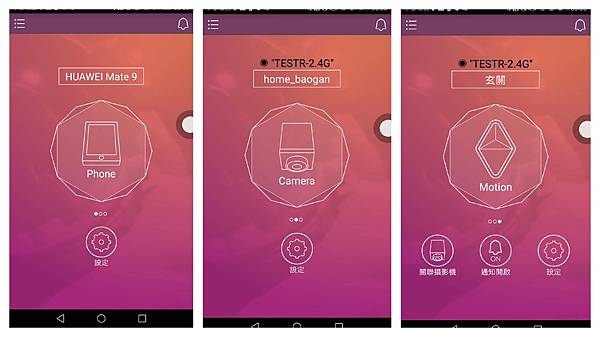 The operation of nextDrive Cube+Cam+Pixi is very simple and easy.
Main purpose for installing this system is to record the daily life of my girl. I am very courious what she does at home when I go to work.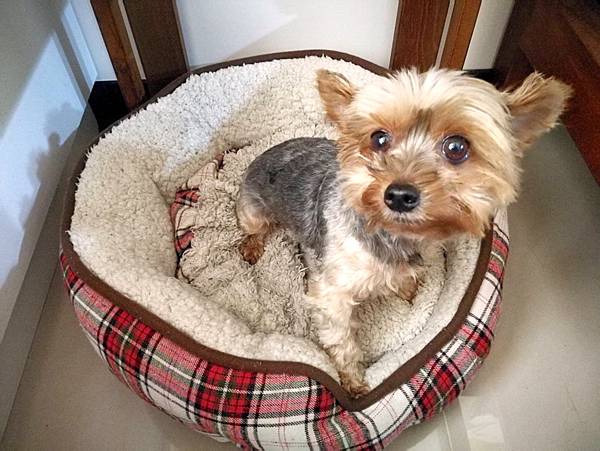 Put the CAM toward her bed.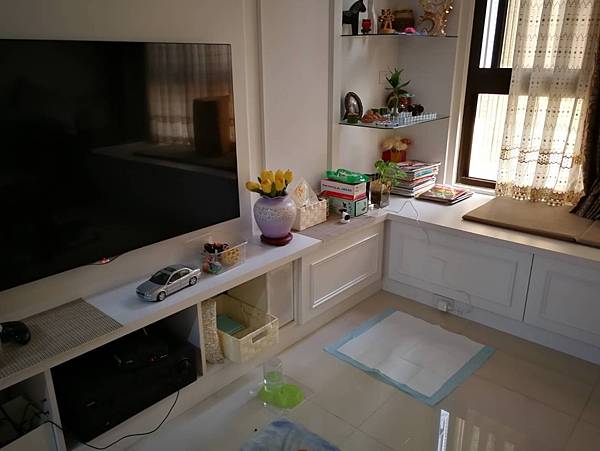 Put the Pixi under her bed. When she jump off, the PIXI will send signal to CUBE to trig an event video.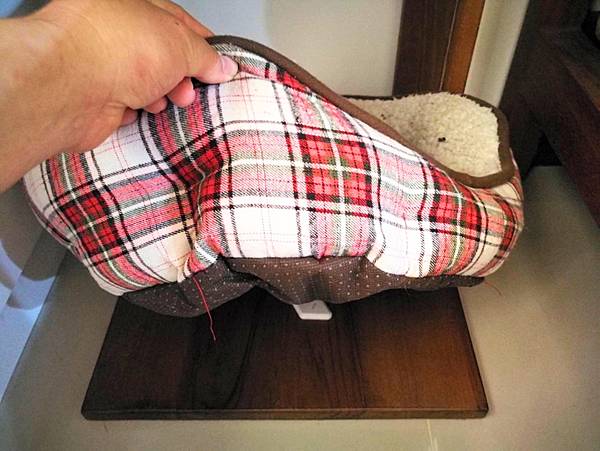 This is a samplefile. Start recording from about 5 seconds before detecting of this vibiration.
In most of time, she did nothing, just sleep..... Sometimes jump off the bed to drink or eat or stretch herself.
---
---
More function of CUBE
CUBE can work as a private cloud.
By pluging a USB storage in the USB port, you can management this storage thru NEXTDRIVE APP. But only work in Intranet.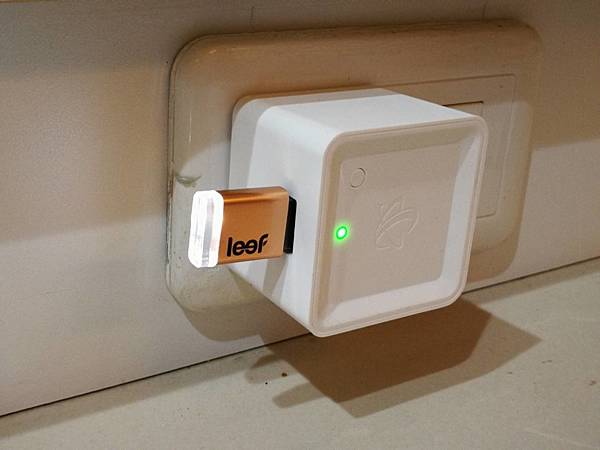 nextDrive is a new and creative team. This smartphone system is possible to add on more extenable function. As a gateway or core, CUBE may have more function except for streaming video center or private cloud.
The part by part module idea is diffferent from traditional all-in-one design.
Our team is looking forward to more convenient and useful function in the near future.
相關連結: [nextDrive官方網站] [nextDrive官方facebook]