NXControl--NxRemote Kit (1 to 5)
Android OTG Zigbee to IR Remote control-- Long distance / programmable schedule
This is my first test report in English. If you have any suggestion or comment, please feel free to let me know. As I am not a native English speaker, some words may not come with very correct way. Hope the pictures and videos can help understanding most of this test. Welcome for test invitation, for English or Chinese, you can reach me by Facebook or email to: ttpnet@gmail.com
Thanks NXControl grant me the chance to test this special gadget.
Zigbee is a low power, long distance wireless portocal.,the reasonable max distance up to 50-300 meters. NXControl is a new company from Taiwan. Their patent technology is Zigbee to IR. NXRemote kit is one of their products applying this technology.
UNBOXing
Package - front view
Paper card board with transparent PVC box. The product content can be saw easily without opening the box.
From the image on the paper board, the application is understood easily -- To control in house equipment from your smartphone.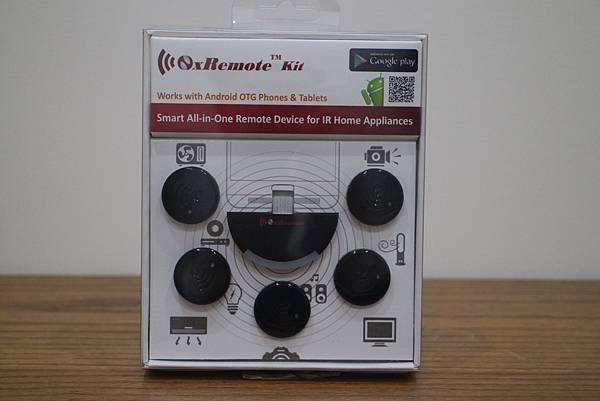 Package -- Back view
An illustration photo to show what you can use the KIT in your home. Same idea.
The lower portion give a brief idea about installation:
Download and install APP > Plug the USB Dongle > Pairing NxBee > Remote control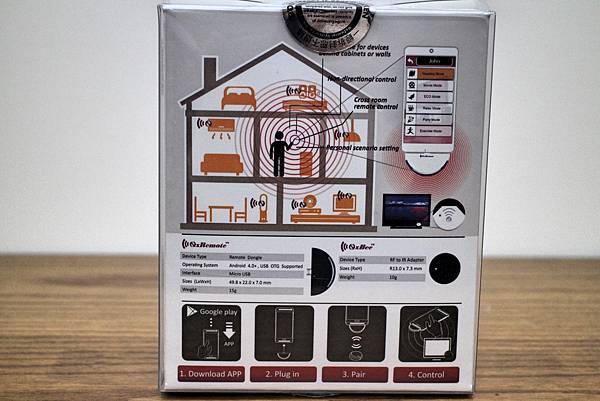 Package - Side view
Product Name:NXRemote Kit
Type:NXRemote Kit (TX) / NxBee (RX)
Producted by: NxControl System Co., Ltd. (Taiwan)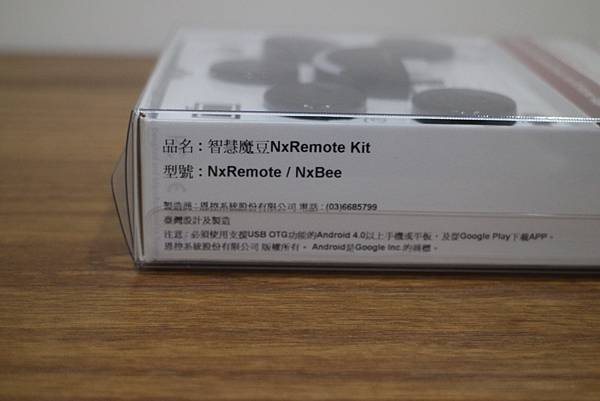 What's inside?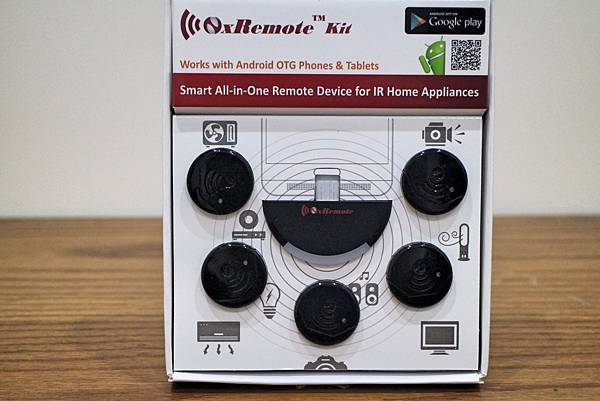 As we can see from outside box....
Inside the box, including the NxRemote (Micro USB OTG dongle) and 5 NxBees (Zigbee receiver and IR transmitter), and the user guide (this unboxing is Chinese version)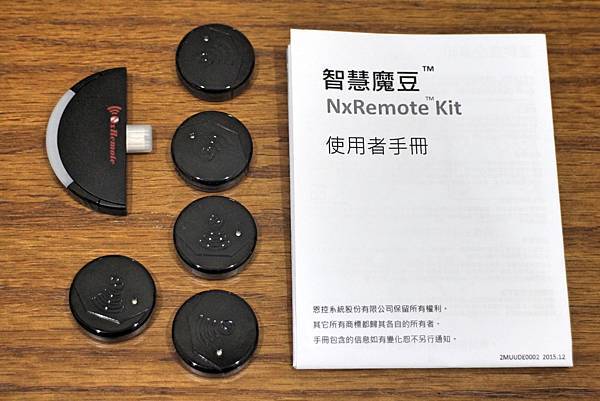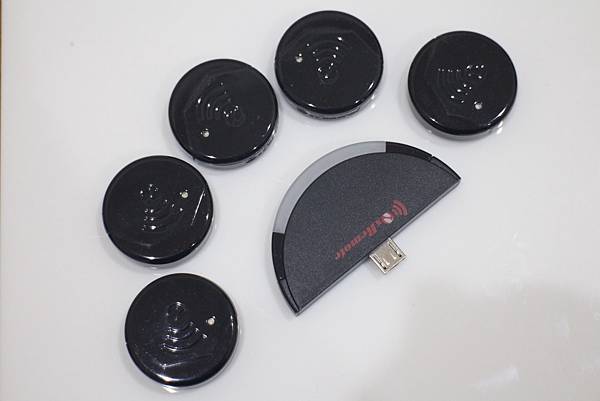 Please download the APP. Go to google play market to search "NXControl" or just scan the QR code outside the box.
Note: The smart device must be Android 4.0+ and have OTG function.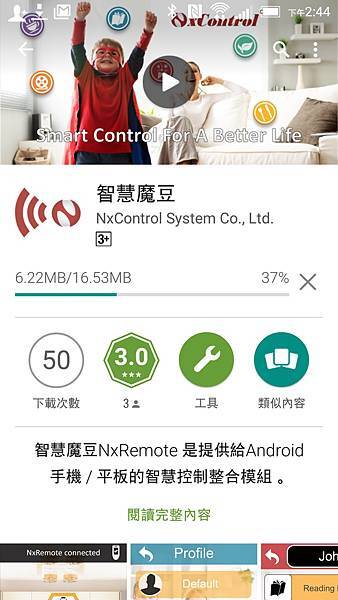 Product Details
NXRemote
OTG Zigbee transmitter
Micro USB interface to plug into Android smartphone / tablet with OTG function.
Unfortunately, iOS version is not available now.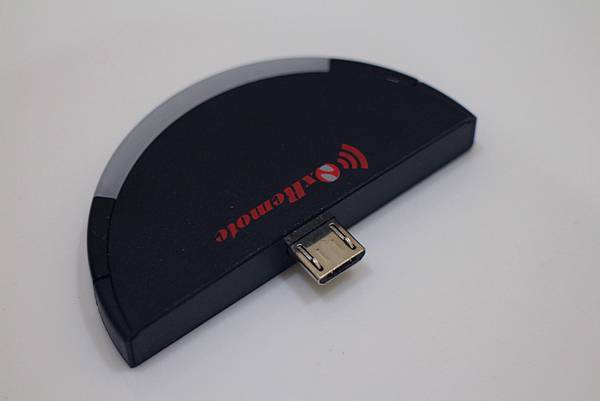 NXBee
Zigbee Receiver / IR converter
5 pieces are included. That means you can control 5 different devices.
This is expandable. If you need to control more than 5 device, you can buy some more NxBees. But the option kits is not available now.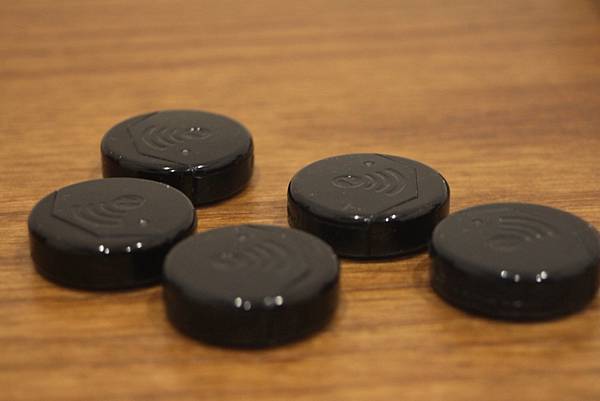 Slim and light weight. The diameter is around 1 inch (2.5 cm). So you can easily fix it to your home applications.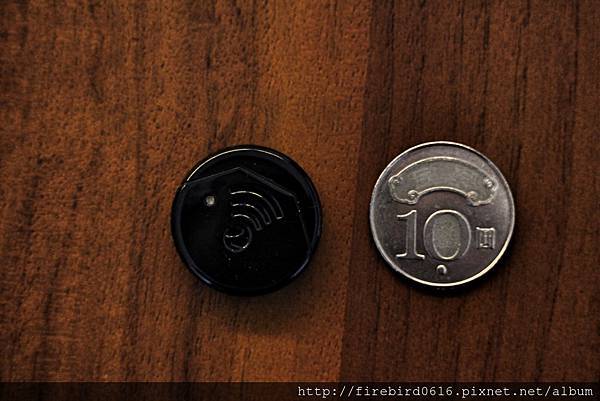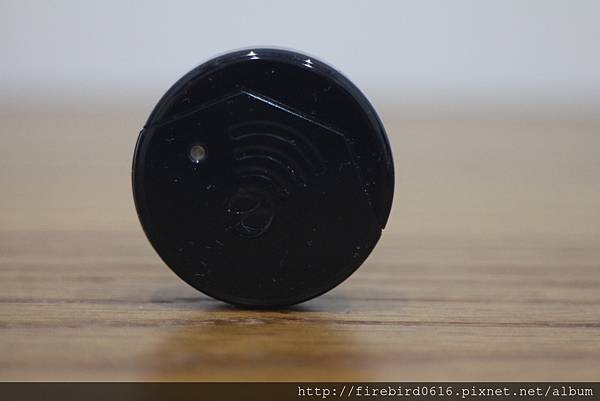 Every NxBee is preload a CR2032 battery. Remote the plastic sheet before use.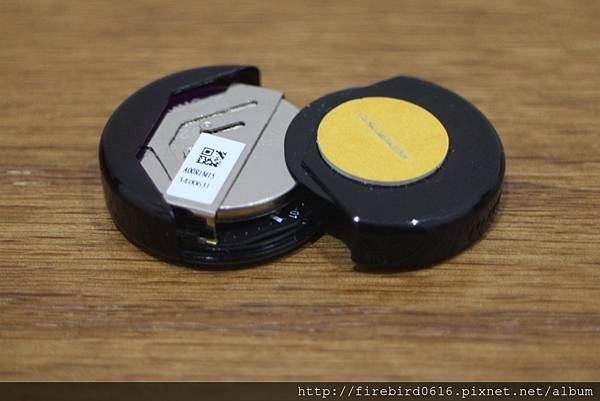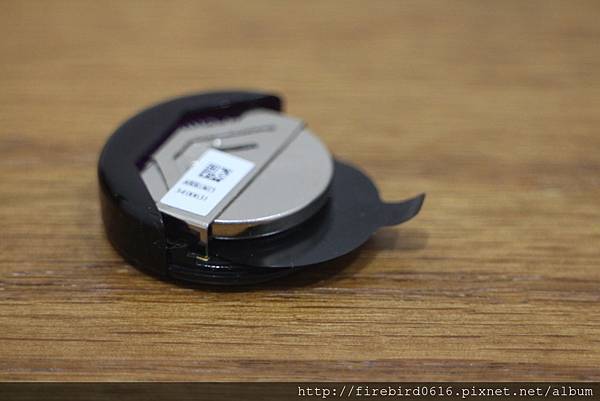 Once remove it, the green LED light will blinking quickly. Status: Ready for pairing.
Suggest to set the NxBee one by one and make a mark to know which device for this NxBee. If you remove all plastic sheets of 5 Nxbee together, you will be confused and don't know which NxBee is pairing.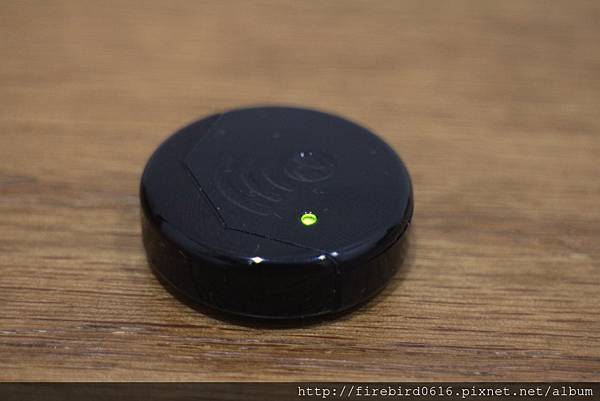 Operation of NxRemote Kit
Open the APP, and plug in the USB dongle. (NXRemote)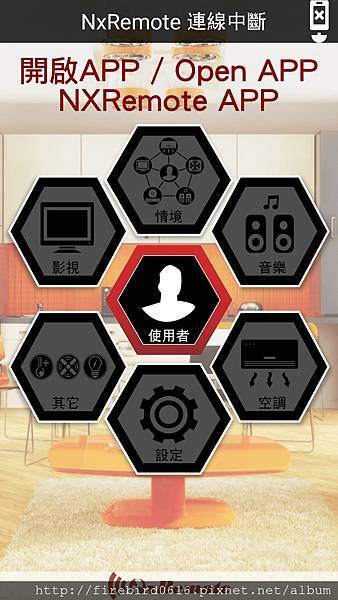 The LED light of the dongle will be constantly green.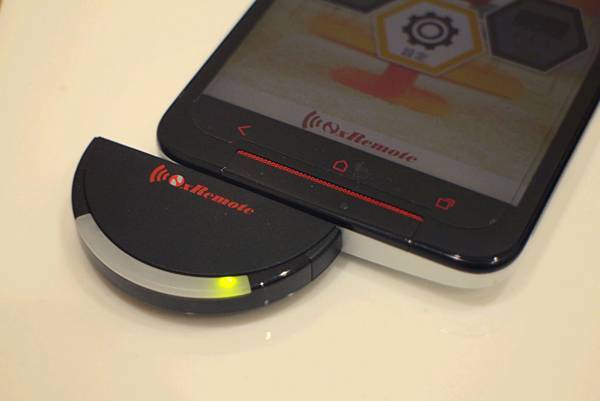 Allow the App to access the USB device.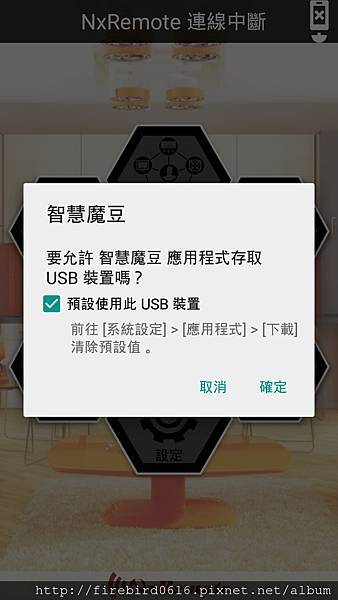 Pairing NxBee
For the first time use, please go to SETUP to pair the NxBees.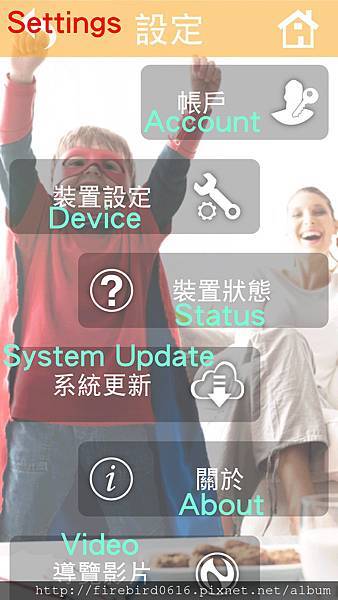 See this video illustration to learn how to pair the NxBee.
Will go through the process step-by-step later.
Click the + to add NxBee.
After clicking, it will auto search available (ready for pairing NxBees)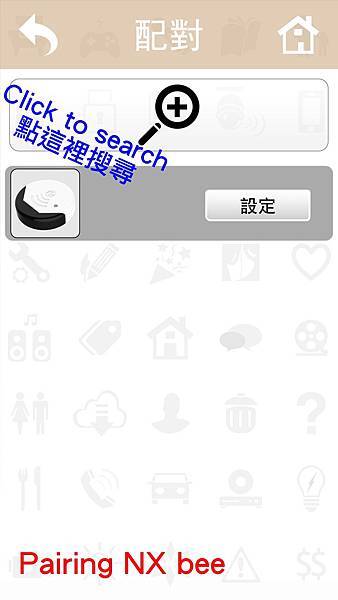 If the NxBee is found, a four digit pairing code is shown.
Every NxBee have different pairing code. For this example is 6429.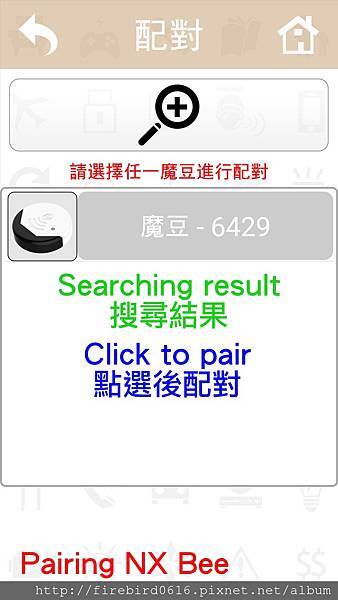 Type in the same code to pair.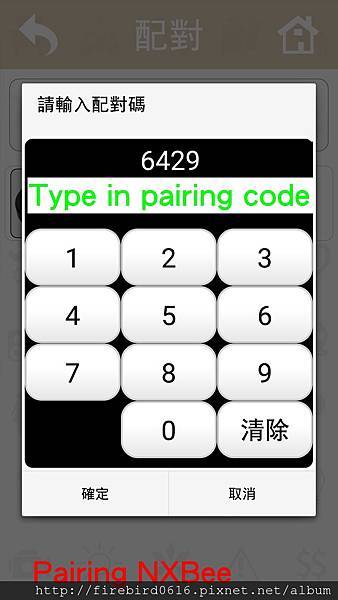 Learning Remote-controller
NxBee setting page will show up. Need to select equipment type, brand and location accordingly.
If the brand or location is not available from the list, you can type the correct name.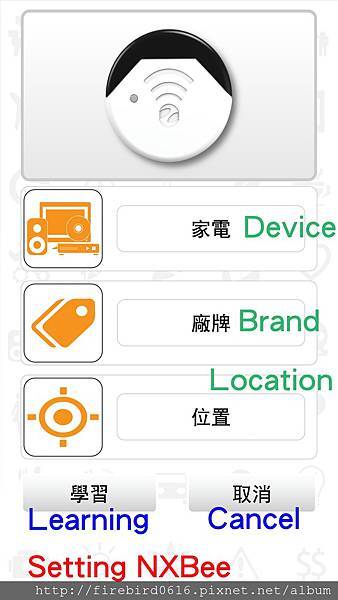 Remote panel for different type of equipment are preloaded.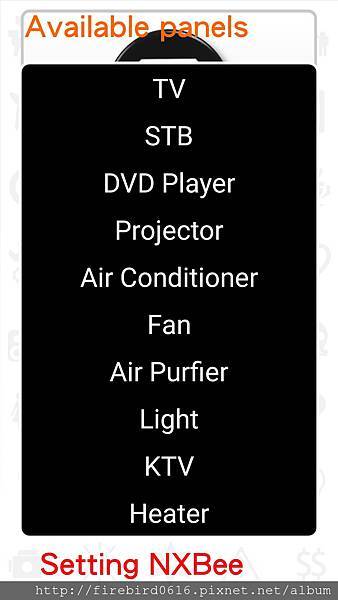 Why we need to set equipment brand? According to NxControl, they already collect the IR code of many famous brands. This can speed up the learning process.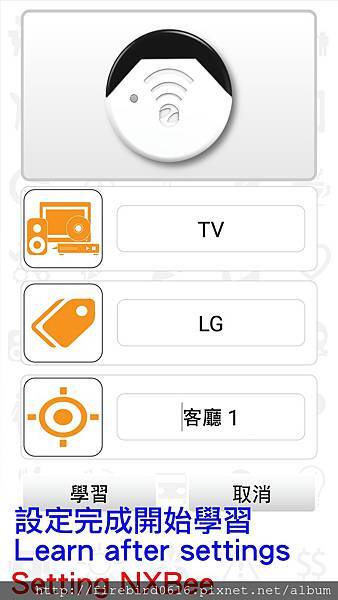 After completing setting, click "Learn" to learn remote control buttons.

A learning guidance page will pop up. Please learn power on/of button first.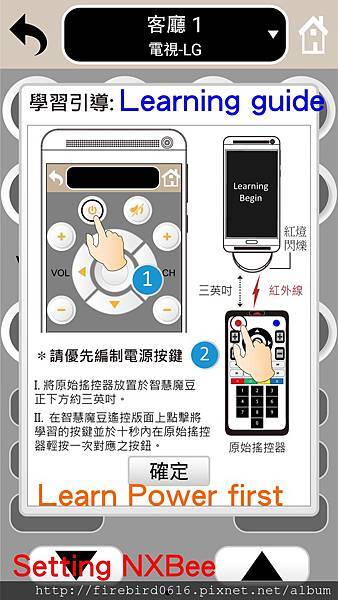 Buttons in white are learnt buttons, otherwise in black.
Press the dummy buttons on the screen, and press the to-be-learn buttons of the remote control in 9 seconds.
It learn very quickly and precisely. If you press the wrong button, don't be nervous. Any button can be re-set again.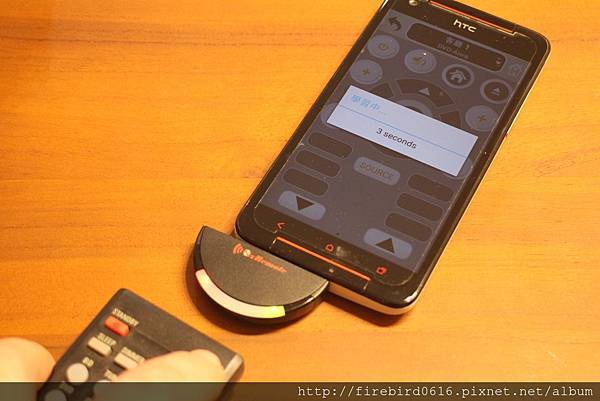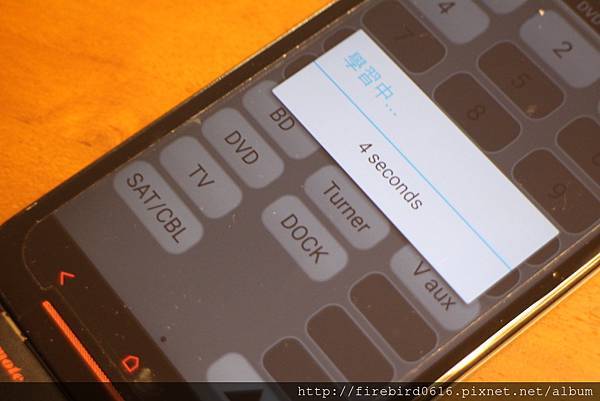 If you cannot find the corresponding buttons from the virtual remote, you can define any blank button. There are many empty buttons available.
This video is a brief illustration of learning process.
Operation--Directly use
There are 6 Hexagon around the user. The upper one is Scenario (introduce later) and the lower one is Settings. And the rest four are remote controls in different categories: Watch / Listen / AC / Others.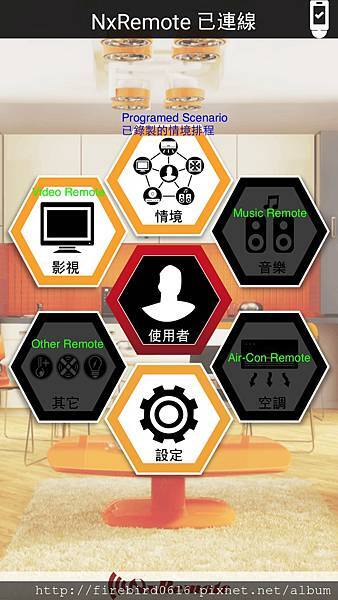 When you enter to a category, in the top black block show the device name. Press the inverted triangle, you can switch to different devices.
And the page up and down icon in the lower portion can move up or down of the remote. It can be put all buttons in a screen, but can be too small to be recognized by elders.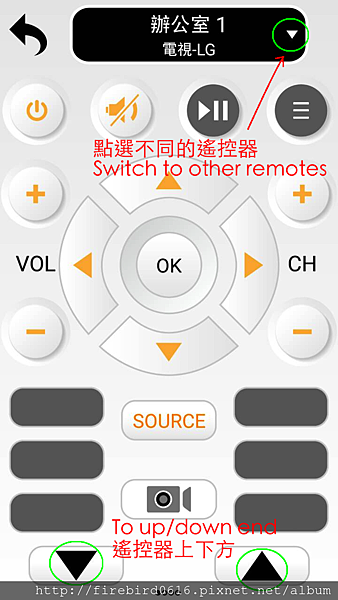 For this test, I already set up 4 devices.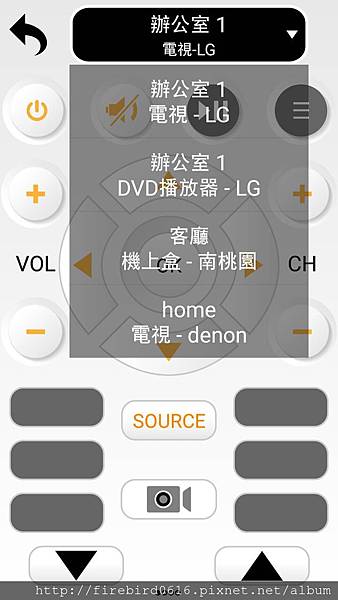 For directly use, very easy. Choose the right remote and press the right button, and it works!
But you make sure the NxBee must be placed at the correct position. Suggest 5-20 cm toward the IR sensor of the equipment.
The test result for reaction is very accurate. With the right position and setting, the react is totally correct.。
And long distance and penetration test is excellent. I test to operate it more than 20 meters without obstacle, work perfect. (according the NxControl, it can work up to 200 meters.). And in my home test, with 2 concrete walls, and up to 7-8 meters, the reaction is good, too.
Note: this is a wireless product. So latency is not avoidable. It's not react so immediately as IR control, but acceptable. (should be around 0.1-0.2 seconds). If you press to quickly, it may work wrongly. Ex. if you want to go to CH 55, if you press the first 5, it didn't work immediately, and you press again... then it will go to CH555.... Need some practice, and this won'g be an issue.
Scenario -- programmable schedule
Just image a scenario: In a hot day in summer, you return home and want to enjoy a good movie by your high end AV system. How many remote you need to operate?
You may have to: Turn on the A/C -> Pull down the projector screen -> Turn on projector -> Turn on the audio amp -> Turn on the Blue-ray
What a troublesome process. With NxRemote Kit, you just need to do it once, and record the process at the same time. Next time, you want to do the same, just press a button, NxRemote Kit will repeat the whole process automatically.
Recording Scenario
Press the record button on the remote panel. And it will start to record what you do, and record as a progress file.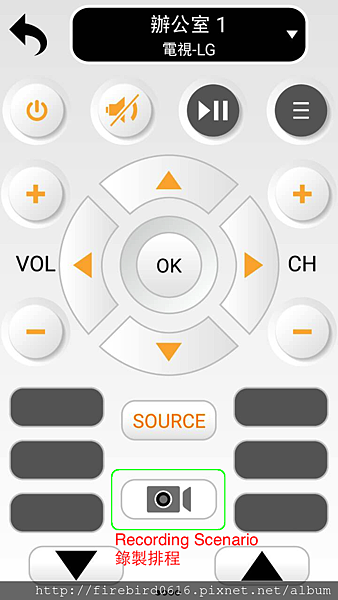 Example:
Turn on TV --> Turn on Set-top-box --> Go to CH58.
Here's the video demonstrate above steps.
After recording, you can give a recognizable name of a certain scenario. For this example, I named it "58".
From the home page of remote, enter into SCENARIO, you can see recorded Scenarios there.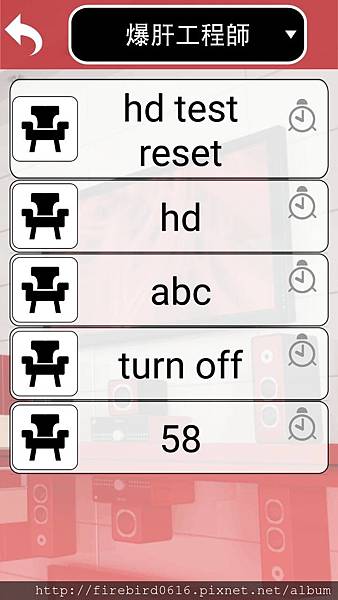 Just press a Scenario (for this example -- 58), and it will play what you recorded.
Another more complicated example with more steps: Turn on TV> Switch to HDMI 2 > Turn On media player > Select the media to play. Work perfect as well!
Summary of the test
I am very satisfied with the performance of NxRemote Kit. No matter the distance, the accuracy, and the smart programable scenario.
If you hide your AV equipment (DVD, amplifier, etc) in the closet around TV. You don't need to open the door in order to operate it. The coin size and one-to-manage-many is very convenient to the digital life. You don't need to find the missing remote.
As to the drawbacks, yes, still some. My biggest complain is iOS version (lightning dock) is not yet ready. 2. Certain latency will reduce the accuracy. Along with distance or or something in between will prolong the latency.
I think this creative company will try there best to keep improving the performance in the near future. Hope a perfect NXRemote kit will come to market soon.

Design / Manufactured by:NXControl System Co., Ltd.